Our Approach
HOW IT ALL WORKS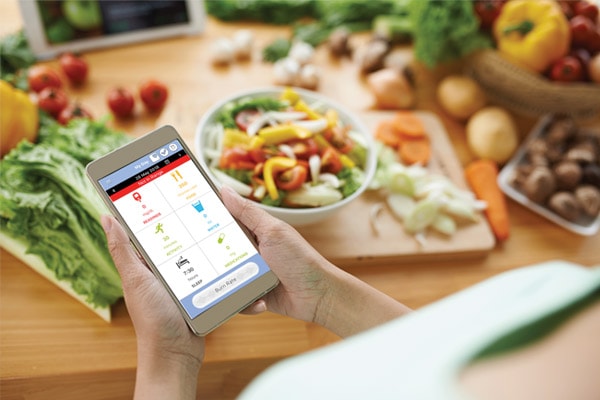 Our DiabeticWatchers App makes it easy to manage your diabetes and live a more healthy life. Stop guessing about what to eat, how much and when. The app will help you figure it out, and allows you to adjust the portion size to help you enjoy some of the foods you love and still stay within your burn rate.
Food calculator - We take the precise nutrition data of the foods you eat, including carbs, sugar and fiber to calculate your glucose load -- showing you a "thumbs up" or "thumbs down" to help you choose your meals.
Burn rate calculator - We calculate the amount of glucose (sugar) your body burns each day based on your BG levels. Once you know your individual burn rate, it's easier to maintain the proper level.
Access to Blue Meals + Blue Fitness - Learn what to eat and how to burn the sugar you consume with diabetic-friendly recipes that note both the nutrition facts, as well as the amount and type of exercise needed to burn those calories.
Activity Tracker - Track your daily physical activity from walking and stairs to weights and other cardio exercises.
Mood Tracker - Diabetes has a significant effect on your mood. This tracker helps you identify how you are feeling, see the patterns in your moods and stay positive.
Water Tracker - Do you drink 8 glasses a day? Use our water tracker to log how much water you drink each day and see your progress.
Sleep Tracker - Sleep helps build your immune system and improves your mood. Track how much sleep you get each night
Share Your Results - Stay connected and share your burn rate and weekly reports with your doctor and trusted healthcare providers. You can print your report or email a pdf.
Real-time Support - Have a question, call our helpline and speak with one of our Certified Life Coaches.
Reminders - Get friendly, positive reminders and tips to help you improve your daily habits and live healthier with diabetes.
Apple Health - Integrates with your health information that is already logged in AppleHealth
Alexa Skill - Logging your BG levels each day is even easier now. Use your Amazon Echo device and "Ask Alexa" to open diabetic watchers and log your reading.
Sign Up to Get The App Order Your Burn Rate Kit